Starton compute units: you're the master of your resources, the captain of your bills!
Starton introduces a new way of managing your blockchain needs. At…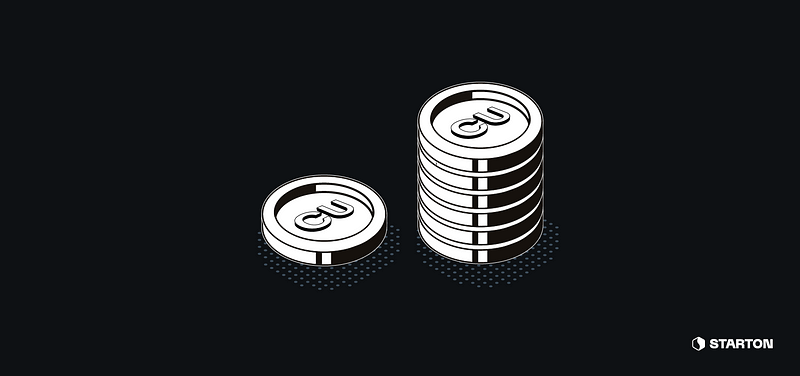 Starton introduces a new way of managing your blockchain needs. It can be hard to navigate which plan to choose according to your needs. At Starton, we decided to solve the issue the other way around. We want to ensure you can fully take advantage of our solution without any unnecessary costs. Using compute units, you're the master of your resources, the captain of your bills.
What are compute units?
Compute units are a measure of the number of resources used by a computing operation. They are usually how we determine the cost of using computing services. Compute units are usually based on factors such as the amount of CPU time, memory usage, and network traffic associated with a particular operation.
Here is an overview of how Starton uses compute units per feature:
IPFS upload and storage
Each upload has a cost in CU.
The daily amount in Go as the data is persistent.
Transactions
Each operation that modifies the blockchain:
Using write functions on smart contracts.
Withdrawing tokens between wallets.
Deployment of smart contracts
Using our templates.
Using your own code.
Read queries
Queries on smart contracts and wallets (which do not modify the blockchain)
Watchers
Each time you create a watcher to monitor blockchain events
Triggered events monitored on a blockchain
What can you do with compute units?
You can accurately estimate the cost of using computing resources for your projects. You can also optimize their usage to minimize costs and ensure that resources are efficiently used.
This is particularly important for businesses that only need one or a few of Starton services to support their operations, as they can use all the compute units of their plan towards their needs.
With compute units, you can easily scale resources to meet changing needs. If you suddenly experience a higher volume, you can simply increase the number of compute units being used. Conversely, if you find that you no longer need as much computing power, you can scale back your resources accordingly.
Our Dashboard can help you plan for future growth by providing insights into how your usage is likely to change over time and how to prepare for them. For example, you may see an unusual peak in compute unit consumption, which could indicate that a bug in your code is absorbing resources unnecessarily.
In short, compute units offers several advantages to the end users:
Using resources on what matters regarding your use cases
Controlling your budget and forecasting your costs
Tracking abnormal consumption
Optimizing your usage and your billing plan
Track the adoption of your product
Overall, using compute units can be a cost-effective and flexible way to manage your computing needs.
How can I see my resources?
Starton will offer a beta period during which you can comprehensively track your needs. You will be able to seamlessly monitor your usage, which will be displayed on your homepage on the Dashboard as soon as you open a project. This will allow you to have a bird's-eye view of your service usage.
The Dashboard on your homepage will provide you with comprehensive data on your service usage. Starton has designed the Dashboard to be as user-friendly as possible. You will be able to see how many IPFS storage units you've used, the number of transactions you've carried out, how many read queries you've made, and the number of Watcher events you've tracked. This information will help you understand which services are most important to you and how much of each service you use. Don't miss out on this opportunity to take advantage of Starton's innovative platform!
By the end of the beta period, you will be able to evaluate your needs and usage patterns, which will provide you with all the valuable insights you need to make the best decision when selecting a plan later on.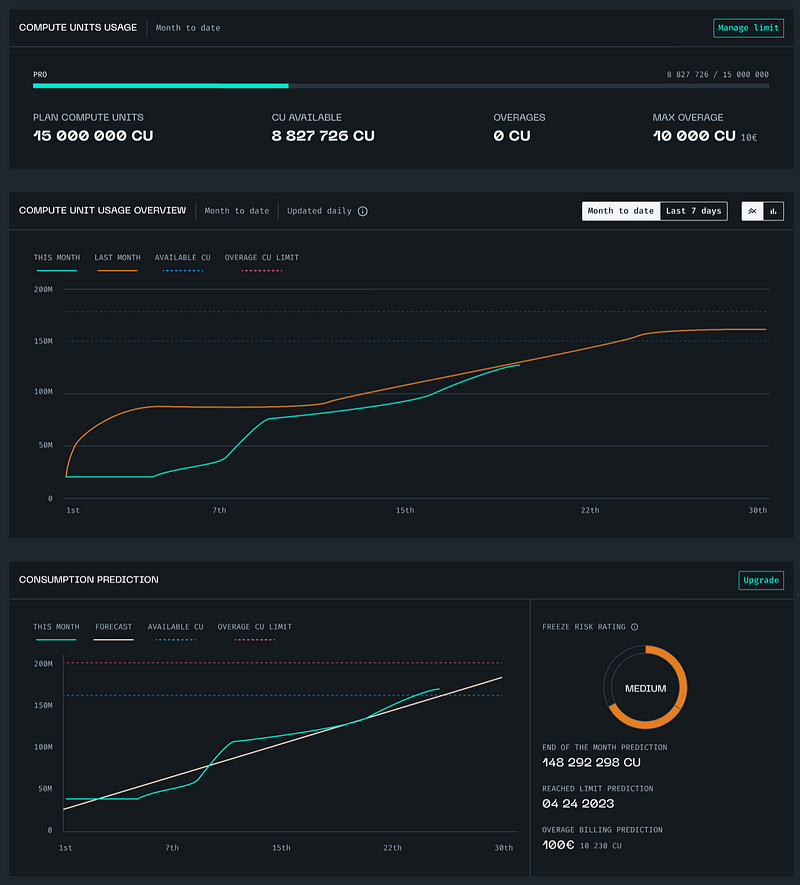 What plans does Starton offer?
Let's start with the important information: the free plan is still existing and ressources allocated to it allows you to experiment and try our product in depth.
Starton will offer plans to cater to the diverse needs of its users. We will specifically design to meet the different requirements of solo developers and teams. The first two are perfect for those who are looking for a platform to build their applications. They provide a wide range of tools and services to make WEB3 development smooth and efficient.
On top of that, Starton offers a plan designed to meet the needs of teams who require premium support and higher rate limits. It comes with dedicated support from our team who will work closely with users to ensure that they get the most out of the platform. Furthermore, the higher rate limits offered by these will allow teams to scale their applications to meet their growing needs.
Do you need more room to grow? We know that your use cases are unique. Beyond what our plans provide, we can create custom plans to fit your needs. Feel free to contact us to craft the perfect plan for you.
By ensuring with our range of tools and services fit any WEB3 application needs, Starton is the perfect platform for anyone looking to build and scale their applications.
What's the roadmap?
The roadmap regarding the launch of our compute unit system and billing is simple:
Very soon, we will release our compute unit system in beta. All limitations regarding projects will be removed so that you can try our product at its full potential and determine your usage.
After a few weeks, all projects will be brought back to their original plan and our official billing plans will be revealed. You will then be able to choose your plan from the web app.
The compute unit system will evolve progressively for us to fit as much as possible the cost of usage with the cost of exploitation.
The Dashboard will display increasingly more features for you to better understand and control your production.
As stated before, our dashboard feature will be released in beta within a few weeks. During the beta, Starton offers you to try their highest plan: the Entreprise plan. For a few weeks, you will be able to make either up to 450 000 transactions or 25 million read queries. You can also monitor up to 25 million events, or even store up to 2300 Go on IPFS. Or you can choose to try a little bit of everything.
You will monitor the resources needed on the dashboard. At the end of the beta period, thanks to the insight provided, you will be able to select the plan that fits your needs.
---
Starton Platform: https://app.starton.com/
Developer Documentation: https://docs.starton.com/